#12. Osment's first acting role was in a commercial for flower delivery company back in 1997.
#13. Emily's mother "Theresa Osment" was a teacher in school.
#14. Emily is a philanthropist and she is proud of it as she has done so many charity works and continues to do so. She also has her line of apparel which she used to raise money for charity. She also has done charity for St. Jude hospital and other related organizations.
#15. While Emily Osment's zodiac sign is Pisces, her Chinese zodiac sign is a monkey and yes Chinese zodiac signs are a thing too.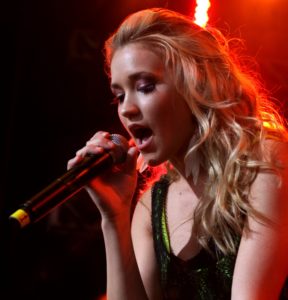 #16. She has a great interest in music and she also has a studio album which was released in 2010 called "All the right wrongs". Emily has released some songs under her alias Bluebiird and the songs that she has released in 2019 are "Black Coffee Morning", "Sailor", "Good Girl", and "When I Loved You".
#17. Her favorite color is blue and as a matter of fact, Emily's eye color is also blue, coincidence I think not!
#18. Emily also has made a few commercial appearances for McDonald's, when they were advertising their Happy Meal toys for Mulan and Hercules.
#19. Emily Osment says that her favorite character is Minnie Mouse.
#20. Emily also has given her voice to some characters in a video game which was made for an animated T.V show Family guy. The game is called "Family Guy: Back to the Multiverse" and it was released in 2012.
Sources